Lamination
LAMINATION: BONDING AND COATING SERVICES
Since the beginning of its existence (1993), BOCHEMIA offers bonding, laminating and coating services. Our production process enables bonding together up to 5 layers of different materials and cutting them to required length in accordance with customer's wishes. Our bonding, lamination and coating services are performed with most up-to-date technologies: hot-melt lamination (adhesive powders, foils, webs, nets and hot-melts), coating with squeegees, spray application of solvent-based adhesives and ecologic dispersion (aqueous) adhesives, flame lamination. We provide services for many Polish and foreign customers.
We recently introduced into our lamination process the production of multilayer composite materials using nanotechnology (developed by the Polish technological research institute). Textile materials, produced with this technology, are characterized by multifunctionality – a combination of antimicrobial properties with UV barrier properties. Previous barrier textile materials on the market were monofunctional.
Because of the modern technical and technological solutions, production processes are ecological, emission- and waste-free. With highly qualified staff and constantly upgraded machines we can guarantee the highest quality of our services while keeping up with short deadlines.
The Bochemia company offering a wide range of services in the field of lamination and materials coating also preforms lab tests and pilot-plant production tests in the range selection of adhesives and bonding method of materials (textiles, foams, lether, Codura, Cordura, foils, etc..).
The minimum amount of material to carry out tests on our production line is 25 m of each material.
The flat-rate fee for execution the tests will be count against receivables by order execution over 1000 meters of materials.
HOT-MELT LAMINATION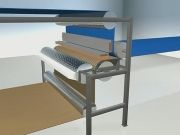 In this method materials are bonded using hot-melt or reactive adhesives, which are melted before application. Because of that, bonded materials are not subjected to high temperatures. The adhesive application is made by different types of gravure rollers, and thickness of adhesive layer is computer-controlled, making the whole process precise and durable. Because of a high-tech hot-melt lamination machine, we can bond together a wide range of materials: foils, permeable membranes, papers, codura and materials with low temperature resistance. This method is most suitable for special technical materials.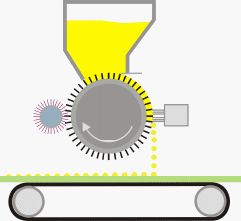 POWDER METHOD
Powder method allows for even application of adhesive powder on bonded materials. Adhesive powder is first applied on material and melted; then the material is bonded.
FOIL, NET, MAMBRANE and WEB METHOD
In this method a special thermoplastic adhesive ribbon is placed between bonded materials, which are then heated together in elevated temperatures. This method can be applied to highly uneven surfaces. Because a wide range of adhesives can be used in this method, it is suitable for many different type of materials with special properties, eg. adhesive membranes serve to manufacture special laminates used in a production of breathable clothing.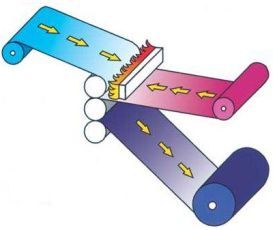 FLAME LAMINATION
In this method a molten polyurethane (or other) foam serves as an adhesive. Materials are bonded immediately after the foam is melted. Foam's type and thickness depend on customer's requirements.
COATING
Special squeegee performs an even application of adhesive film layer onto special silicone paper or directly onto material. Bonding with the other material is immediate – "wet tack" – or when the adhesive film is dry. Coating materials with adhesives manufactured in our company enables us to have a full control over the production process.
SPRAY METHOD
Solvent-based or ecologic aqueous adhesive is applied with the use of a system of compressed air nozzles. By using adhesives manufactured in BOCHEMIA, we can bond a wide range of materials with different properties.

Bonded materials are used in:
1. Textile industry,
2. Furniture and upholstery industries,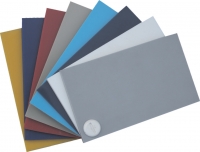 3. Pursemaking industry,
4. Footwear industry,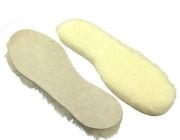 5. Automotive industry,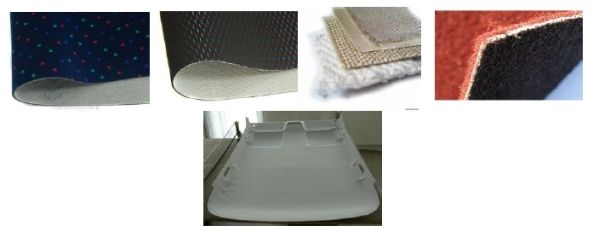 6. Filter materials,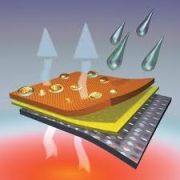 7. Households,
8. Sound and thermal insulation,

9. Civil and water engineering (geotextiles and membranes),
10. Composites of different types,
11. Breathable and protective sport clothing.